Royal Academy of Culinary Arts welcomes members from the Jordanian Senate
Royal Academy of Culinary Arts welcomes members from the Jordanian Senate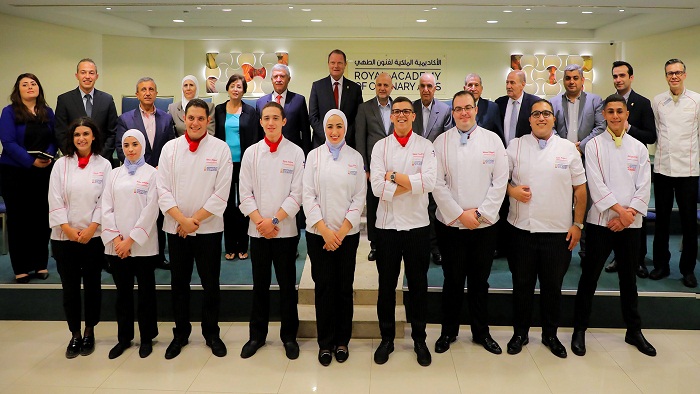 On Tuesday September 9, 2022, the Royal Academy of Culinary Arts (RACA) welcomed members of the Senate's Joint Labor, Social Development, Tourism and Heritage Committee, headed by HE Mr. Issa Murad and HE Dr. Nidal Al-Qatamin; to introduce them to RACA's various programs, accredited by the Ministry of Higher Education and Scientific Research, and certified byEHL Hospitality Business School; the world's best hotel management school by QS World University Rankings for Hospitality and Leisure Management, which enable the employment of youth in the hospitality and tourism sector.
The Senate members were welcomed by RACA's Director Mr. Jacques Rossel, his deputy Mr. Asem Owais and RACA's management. The visitors went through a thorough tour around RACA's campus that includes many kitchens which replicate 5-star hotel kitchens, Room-Division class and several classrooms, in addition to dining outlets and a library, that is considered the largest in the region, specialized in culinary and F&B.
At the end of their visit, the Senate members met a group of students from different study programs and listened to their unique learning experience.
The Royal Academy of Culinary Arts is a Technical University College, established in 2008 following the vision of His Majesty, King Abdullah II, to raise the level of education in the Tourism and Hospitality Sector, and reorient young men and women toward education related to the technical market.
RACA is aCertified Member within the EHL Network of Schools and offers a Four-Year Bachelor's Degree in Food & Beverage Management, and a Two-Year Diploma in Culinary Arts.