Royal Academy of Culinary Arts Signs a Cooperation Agreement with National Employment and Training
Royal Academy of Culinary Arts Signs a Cooperation Agreement with National Employment and Training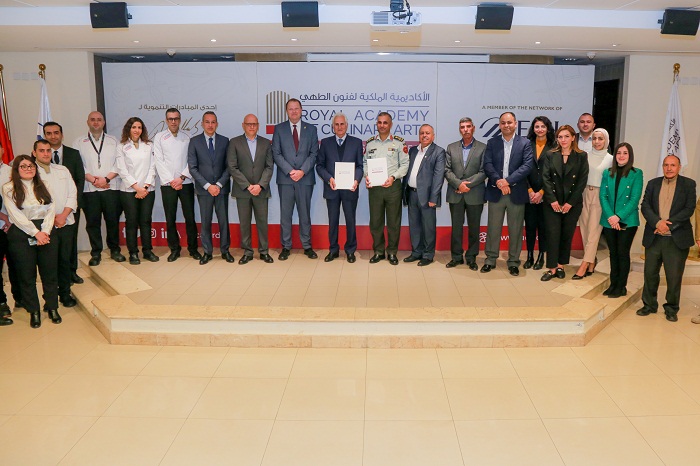 On Thursday 23 March 2023, the Royal Academy of Culinary Arts (RACA) signed a cooperation agreement with National Employment & Training (NET) Company; with the aim of providing training services to qualify youth in the fields of culinary arts and hospitality for trainees at the Aqaba Training Center affiliated with the NET, which will be a distinguished pioneering center
that meets the needs of the labor market of various professions, including logistics and hospitality services.
RACA's Chairman of the Board of Trustees Dr. Wajih Oweis signed the agreement on behalf of RACA, and NET's General Manager, Brigadier General Sulaiman Al Faouri, signed on behalf of NET.
NET's Director pointed out that NET was established upon Royal directives in as a nonprofit private company, meant to reduce the unemployment rate among young Jordanians; by training the unemployed youth and equipping them with vocational skills, through 18 training centers spread throughout the Kingdom's governorates, where NET's vision and mission embodies the
role of JAF and their participation in national development.
NET's Director indicated that this agreement translates the national efforts for employment and training in achieving national goals in supplementing the national economy, achieving social security and enhancing partnerships with the private sector.
In turn, Dr. Wajih stated that RACA is a Technical University College, established in 2008 following the vision of His Majesty, King Abdullah II, to raise the level of education in the Tourism and Hospitality Sector, and reorient young men and women toward education related to the technical market, and it is also a Certified Member of the Network of EHL-certified
Schools, offers a Four-Year Bachelor's Degree in Food & Beverage Management and a Two-Year Diploma in Culinary Arts.
Dr. Wajih also expressed RACA's delight with its participation in this promising project due to its positive role in training and qualifying the youth at the highest levels to increase their chances of working in major strategic projects in Jordan and the region, In implementation of the directives of His Majesty King Abdullah II regarding the need to rehabilitate Jordanian youth and support
them in the labor market.
According to the agreement, RACA will implement, supervise, manage and follow up the training processes, develop study plans, and design educational curricula and training programs in accordance with the standards of the TVSDC and the applicable criteria.