RACA at HORECA
September 6, 2023

Posted by:

admin

Category:

RACA Blog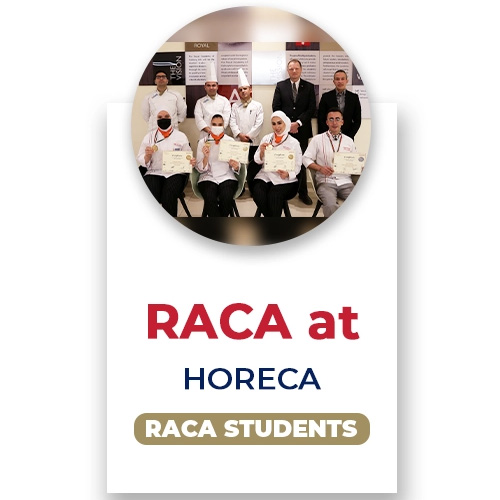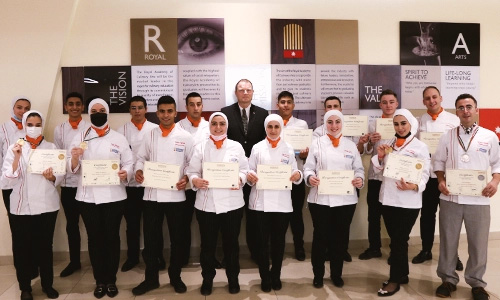 Under the patronage of H.E. Minister of Tourism & Antiquities, the seventh edition of HORECA Jordan was held on the 7th until the 9th of December 2021. This annual event is the largest exhibition for the Hospitality and Food & Beverages Service industry in the region.
RACA had a big part in this exhibition, where our Director Chef Jacques Rossel was one of HORECA's ambassadors in 2021. Also, the students of RACA had a good share of winning in the Salon Culinaire competitions that were held as a part of the exhibition and also in volunteering with helping the organizers of those competitions.
Here are some testimonials of our RACAteers who won in the Salon Culinaire competitions: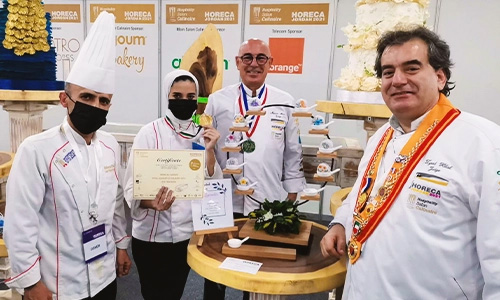 Miran Al Qassas, semester 2 student, won the Gold medal in the Best Macarons Competition.
"Reaching an accomplishment can take a matter of days or even months but you have to work hard for it. Everyone can imagine what it feels like to win a gold medal but when you actually hear your name being called, it's just something different! It's a really nice feeling with an intense satisfaction.
I chose the Macarons category because it was my challenge since I entered RACA and my goal was to mix between my drawing talent and my passion in cooking to make something different and an unexpected creative idea. I now realize that winning doesn't always mean getting first place; it means getting the best out of yourself."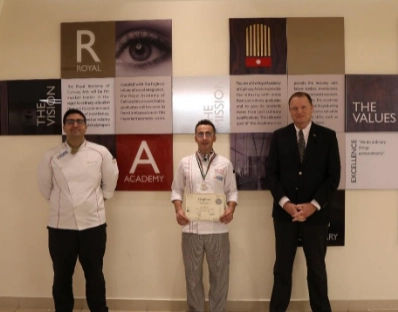 Khaled Hamdan, a CIT (Chef in Training) at RACA who recently graduated, won the Silver medal in the Live Cooking Competition – Pasta Category.
"Competing at HORECA was on my wish list since I joined the academy in 2019 considering it is one of the largest hospitality exhibitions, and since it was postponed due to COVID restrictions I got the chance to participate right after my graduation in 2021. As a young chef who's passionate about Italian cuisine, I chose to compete within the Pasta category to show my skills and knowledge in that field. After I registered in the competition I started doing extensive research about the art of making a special and creative pasta dough using the Royal Academy of Culinary Art's resources and books found in the library on campus. After many readings, I decided to make two different dishes; one was a seasonal sustainable concept to shed light on food waste that occurs all around the world, and the second was a mix of cultures with a twist; using Pasta as a dessert.
Unfortunately, and due to unexpected circumstances I only had 3 days to train on my dishes, but my love for the kitchen and my ambition kept me well focused to achieve my goal. The main purpose of my participation was to be able to test myself and my skills, how I perform under huge pressure and at the while producing high quality food and maintaining food safety and hygiene. It was a fruitful experience that I learned so much out of; being well organized, developing time management skills among other learning outcomes. All the pressure and hard work that I've put through those days finally paid off the moment they announced my name as the winner of the silver medal in this category, I couldn't be happier with the result as I'm sure I will not stop at that but will sharpen my skills and push myself past my limits, to leave my mark in this field one day."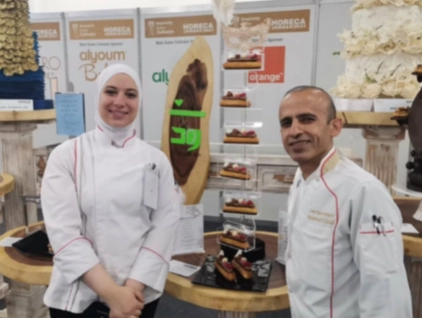 Zahraa Al-Abdallat, semester 2 student, won Gold medal for Best Éclairs Category.
"First of all, I decided to participate in HORECA competition as I saw the previous versions, and I realized that I was able to compete. Then, I chose the category based on a personal desire; in addition, it was nominated by the Senior Pastry Chef, Mohammad Al-Zubaidi, because he saw my skills that qualifies me to participate in the "éclair" category. After this decision, I began a daily practical training to reach the best result for the éclair because it is the 'inimitable simplicity' in the pastry field.
Furthermore, with the great support from the Royal Academy of Culinary Arts by providing all the tools and ingredients I needed throughout the training period, I was able to see my goal accomplished. I was very proud when I reached the result I wanted, and on the day I arrived to HORECA Salon Culinaire with the éclairs, my feelings were mixed between pride, fear, and enthusiasm. However, when I heard the opinions from national and international chefs, I knew that my work would be from the best among the competition.
Finally, when I heard the phrase: "The gold medal goes to…" followed by my name, it was an invaluable moment, then I felt that my work and training during the period leading up to the competition was not for nothing. My experience in the competition was great from the beginning of the selection of the category until receiving the gold medal."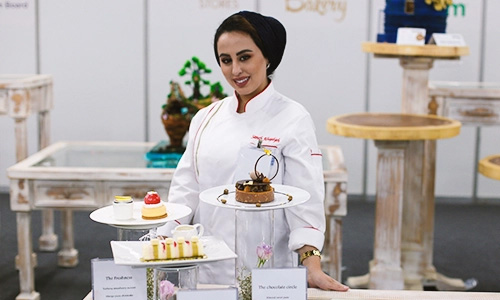 Samah Al Hajahjeh, semester 2 student, won Gold medal for Best Plated Dessert Category.
"I chose this category because I believe that I am not created to do everything that is easy, but rather to challenge myself; as I made the decision to enter the strongest competition in my life.
My study at the Royal Academy of Culinary Arts with the best chefs has always been a strong motivation to focus on excellence and nothing else.When I heard my name being awarded the gold medal, I felt a mixture of pride in myself and gratitude to everyone who helped me achieve my goal in this record period.
Just remember…give your dreams a fair chance…then they will come true!"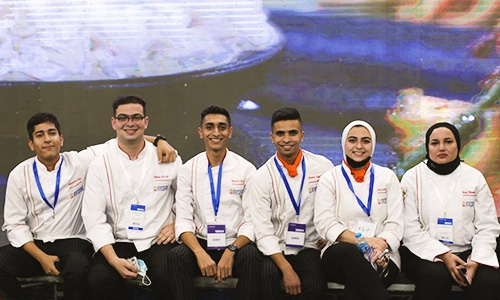 Here are some testimonials from some of the volunteers who did a great job helping with the planning and preparations of the Salon Culinaire Competitions:
Lana Zalloum, volunteered in the Kitchen Timings.
"Volunteering at HORECA was a new and nice experience for me, this was my first time dealing with our industry this close, I was so proud to represent RACA at HORECA, by going through this experience I realized how important knowledge is in our industry, and I appreciate that RACA is giving us all the knowledge we need to be always with the best, and I would definitely like to participate again and represent RACA in any event."
Suhair Qaisi, volunteered in the Display Front Area.
"Volunteering at HORECA opened my eyes to the never ending opportunities ahead of me. I'm highly determined to participate in competitions, and to continuously challenge myself."
Hisham Ghlilat, volunteered in the Kitchens Back Area.
"It was a great experience and I was happy to present RACA in HORECA event."