Graduation ceremony on completing the "Food Safety Implementation And Inspection Guidelines"
Graduation ceremony on completing the "Food Safety Implementation And Inspection Guidelines"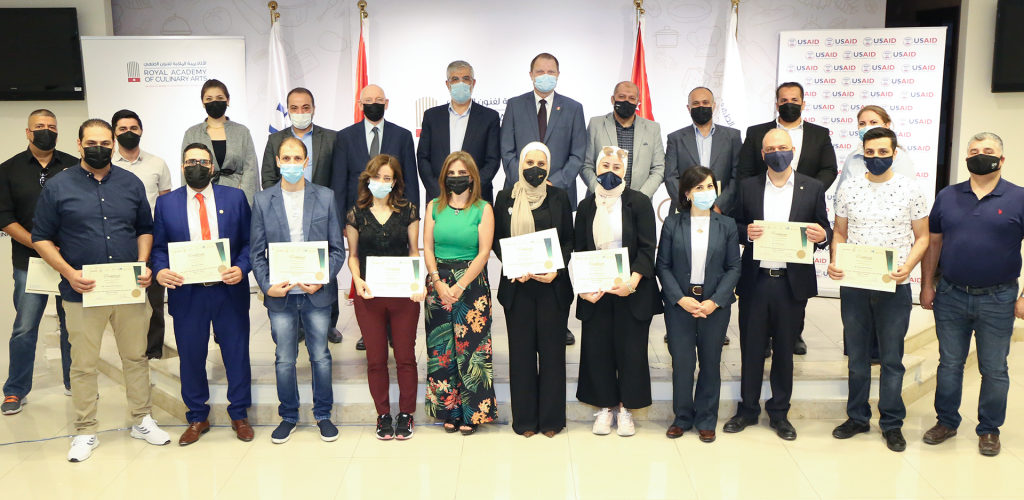 RACA holds graduation ceremony of all the participants on completing the "Food Safety Implementation and Inspection Guidelines: Business Point of Contact"

On Sunday, May 23, 2021, the Royal Academy for Culinary Arts (RACA) held a graduation ceremony for those who completed the workshop on Food Safety Implementation: Business Point of Contact Certification.
The workshop was delivered based on the guidelines for "Safe Food Handling and Hygiene Standards" developed in cooperation with the Jordan Food and Drug Administration (JFDA), the Ministry of Tourism and Antiquities (MoTa), the Aqaba Special Economic Zone Authority (ASEZA), the Jordan Restaurants Associations (JRA), the Jordan Hotels Associations (JHA), USAID Building Economic Sustainability through Tourism Project (BEST), and the Royal Academy of Culinary Arts (RACA).
The aim of the course was to introduce the inspection guidelines to hospitality and food specialists based in business, to be also known as "Points of Contact". These professionals have now a clear understanding of what is required from them when JFDA inspectors visit their work location. They are also responsible to ensure that the JFDA's guidelines are being implemented in a manner that protects consumers from potential diseases that can be transmitted through food.
The graduates have thus been supplied with the necessary knowledge and competencies to communicate with managers and employees who handle the food to continuously guarantee that health and safety protocols related to food are being observed at all times in their respective food establishment.

RACA's Director Chef Jacques Rossel expressed pride in the efforts exerted to make the training a success, also voicing his excitement that RACA had helped train capable young people, highlighting how important their role was when food safety and protecting consumers were concerned.