Congratulations to our talented student Yahia, who was awarded the 1st prize in Sustainability
Congratulations to our talented student Yahia, who was awarded the 1st prize in Sustainability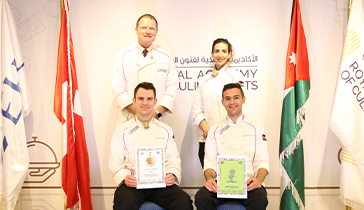 Congratulations to our talented Yahia Khaled Abu Saad, Student at the Royal Academy of Culinary Arts, who was awarded the 1st prize in Sustainability by the Chef Judges of the 7th International Young Chef Olympiad 2021 (YCO 2021).

YCO is currently the greatest international Olympiads for culinary students, with the participation of candidates representing over 60 countries.

Special thanks to Chef Yousef Al Jabasini and Chef Jihan Sahawnih for their guidance and mentorship during the preparation of the competition!